The Close Encounters of J. Allen Hynek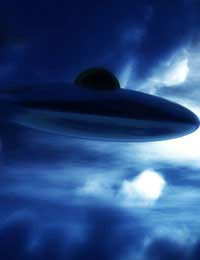 J. Allen Hynek is one of the key figures in the birth of modern ufology. His story embodies the classic motif of the man who came to scoff but remained behind to pray.
Hynek – From Sceptic to Believer
An expert in astronomy Hynek was employed as a consultant to Project Bluebook, the US Air Force's official study of the UFO phenomenon. When a sighting report was received, Hynek's role was essentially to suggest whether it might have been an astronomical body which the witness had seen instead.
He later acknowledged that his original views on the UFO topic were derisive. In his own words, he considered belief in UFOs to be a "mental aberration." But Hynek's views evolved over the years. As he was involved in more and more cases which seemed to defy simple explanation; as he encountered eye witnesses who were clearly professional persons of substance with no interest in self-publicity, Hynek came to consider the alternative: that there really was something very strange going on in our skies. As his conviction that there was an underlying reality to the UFO phenomenon grew, so too did his dissatisfaction with what he saw as Bluebook's superficial and dismissive approach.
After Project Bluebook was wound up by the air force, Hynek continued his exploration of UFOs. He felt that the study of the phenomenon really had to be taken out of the "kook" ghetto and put on a serious scientific footing. He personally encountered many highly credentialled scientists who were happy to tell him privately of their interest and belief in UFOs, but would not dare utter the same sentiments in public for fear of losing credibility and damaging their career prospects. To help overcome the "sneer factor", in 1973 Hynek established the Centre for UFO Studies in his native Chicago. It collected UFO sighting reports and started a scholarly journal – the Journal of UFO Studies – which still continues today.
Close Encounters
With the goal of making the collection of UFO data more systematic in nature, Hynek established a classification framework for sighting reports which was to prove very influential: the Close Encounters system:
Close Encounters of the First Kind were defined as those in which an anomalous object is seen in the sky within 200 yards of the eye-witness
Close Encounters of the Second Kind are those in which, additionally, the UFO has some tangible effect on the environment, for example by leaving an imprint in the ground where it lands or by interfering with the normal functioning of a car engine
Close Encounters of the Third Kind are those in which, additionally, the occupants of vehicle are seen
Although Hynek contented himself with these three kinds of Close Encounter only, after his death others added two further levels of classification:
Close Encounters of the Fourth Kind are those in which a human is abducted by aliens
Close Encounters of the Fifth Kind are those in which the human and alien commune with one another in some form
Stephen Spielberg read Hynek's books, and borrowed the title of his famous film from the Hynek system. Hynek acted as technical adviser to the film and even appears in a brief cameo role towards the end. When the flying saucer has landed, Hynek is the bearded man shown puffing contentedly on a pipe as the aliens emerge to greet the waiting humans.
Throughout the remainder of his life, Hynek continued to read, research and write about the UFO phenomenon. He even appeared before the United Nations in 1978, urging them to take the subject seriously and established a committee to investigate it. Although he was received with courtesy, his suggestion was not taken up
Conclusion
J. Allen Hynek died of a brain tumour in 1986. His work helped shape the course of UFO research in his lifetime and remains influential today. He is remembered as one of the most distinguished scientists ever to have declared publicly that the UFO phenomenon had to be taken seriously.
You might also like...