The Bennewitz Story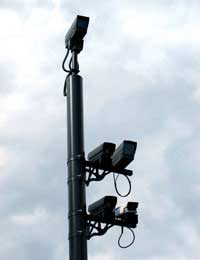 Within the annals of UFO literature there are many strange stories, but few stranger than that of Paul Bennewitz. In all its gothic details, it paints as sinister a portrait of the alien presence on earth as has yet been seen. Yet the Bennewitz conundrum revolves around how much of this portrait is to be trusted. How much of its dark grotesquerie was genuine insight, how much government disinformation, and how much stemmed from his own growing mental instability?
The Bennewitz UFO Research
Bennewitz was a trained physicist who ran a company called Thunder Scientific Corporation. Intrigued by the reports of cattle mutilations in New Mexico which were surfacing in the 1970s, he decided to look into them personally. His investigations brought him into contact with a very disturbed woman called Myrna Hansen.
Under hypnosis, Hansen told an extraordinary tale of being a chance witness to a cattle mutilation being performed by aliens. Alarmed at being seen, the aliens abducted Hansen and took her into an underground base. There she saw vats full of cattle and human body parts. The aliens inserted implants into her body which, she believed, allowed them to influence her mind remotely. After that, they released her.Bennewitz was fascinated by Hansen's account and determined to look deeper into the UFO mystery. He was interested first of all in discovering the location of the underground base. Using his electronics knowledge, he set up elaborate monitoring equipment which, he believed, could trace the signals sent by aliens to the implants of their human mind-control victims. In this way, he managed to establish to his own satisfaction that there was an underground base located in Dulce, New Mexico, and another in Albuquerque.
Becoming obsessive about it now, Bennewitz set up radio equipment, as well as still and video cameras, to monitor activity in and around the Dulce base. After some time spent pursuing this, he claimed he had captured still and video images of flying saucers taking off and landing; he believed he had obtained remote access to a video camera located inside the base; and he was convinced that he had established communication with a semi-cooperative alien using a primitive code.
Paul Bennewitz Approaches Officialdom
When Bennewitz had assembled sufficient proof of these amazing claims, he decided to take it to a local air force base and ask them to investigate it further. Air force officers examined his evidence and were intrigued by it. By their own later admission, it appeared to show some extraordinary aerial phenomenon. But they were more concerned with Bennewitz's communications intercepts which, they believed, had come not from aliens but from a secret nuclear facility. Since this was a potential breach of national security, they believed it was their duty to probe the matter further.
This is where the Bennewitz story gets murky. It appears the air force officers strung Bennewitz along for a while before giving him the brush-off. Even after cutting off contact with him directly, however, they continued to keep tabs on him and to interfere with his ongoing investigations indirectly. Bizarrely, they were able to do this through the agency of other ufologists with whom Bennewitz was in contact. The air force intelligence officers encouraged these other ufologists to pass disinformation on to Bennewitz in order to confuse him. In a dramatic gesture at a UFO conference in 1989, ufologist William Moore confessed to his role in this disinformation ploy, and was later shunned by his fellow UFO researchers as a result.
The Bennewitz Breakdown
Prior to Moore's confession, Bennewitz had become so immersed in his UFO investigations that he was convinced all kinds of nefarious activities were going on in the underground facilities. He believed that the aliens were holding abducted humans captive in cages underground, doing bizarre genetic experiments on them, and creating hybrid, part-alien and part-human, creatures. Furthermore, he was convinced they were doing all this with the connivance of his own government. He believed a treaty had been signed between the American government and two alien races, granting them the right to establish bases. Bennewitz was certain that the aliens intended to break the treaty, however, and were secretly planning an all-out invasion of earth. Desperate to issue a warning before it was too late, he wrote frantic letters to politicians, including prominent senators and President Reagan.
If this sounds like enough to drive a person insane, it was. Bennewitz eventually had a nervous breakdown. Afterwards, he withdrew from the UFO field altogether and refused to discuss his research any further. Although he had assembled an impressive collection of UFO-related photographs and videos, he claimed most of these were stolen by other UFO researchers who had come to visit his home. There are still some photographs available on the web today, however, purporting to be the original Bennewitz photographs. Some are, without question, extraordinary, and appear to depict flying saucers as well as the aftermath of cattle mutilations.
Bennewitz's research lost credibility in the UFO research community following the revelation of the disinformation plot. It was assumed that all of the most lurid aspects of his story derived from the disinformation. But is this fair? Bennewitz's defenders point out that his impression of alien activity in the Dulce base had already been formed before he ever got in contact with the air force. And why would the air force invest so much effort in disrupting his investigation anyway unless they were worried about what he might find? Answers to these questions remain elusive. The Bennewitz mystery remains an amalgam of madness, disinformation and, just possibly, a grim, horrific truth.
You might also like...