The Brighton Police Helicopter Chases a UFO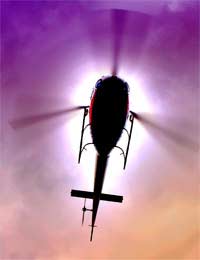 In the last decade or so, there have been quite a few spectacular UFO sightings in Britain. Often the eye-witnesses are not just ordinary Joes, but people in positions of authority, making their claims especially credible. And not infrequently the incident has been captured on camera. One of the most memorable cases which fulfilled both criteria was the Brighton police helicopter chase.
Police Helicopter Chases UFO Over Brighton
On August 11, 2000, Sergeant John Tickner and paramedic Sean Mitchell of the Sussex Police force were flying 1000 feet above Brighton in their helicopter. To their utter amazement, they saw an object begin to approach them from the left. Fortunately, they had a camera with them, and this was no ordinary camera, but a special police camera equipped with night-vision capabilities. They filmed the unidentified flying object as it first approached them, then swept past, unheeding. In shape resembling a compact cylinder, it did not look like any conventional aircraft they had ever seen.
Intrigued, they decided to give chase to the object and set off after it in their helicopter, filming it all the while. They pursued it for three minutes before losing track of it, using the camera continuously and even switching to a thermal-imaging view at one point.
Reaction to the Brighton UFO Sighting
Surprisingly, although the police officers joked among themselves about "little green men", they apparently did not take the sighting very seriously because they failed to report it. Possible proof of alien life is no big deal, after all, is it? Perhaps they feared a loss of credibility with their superiors. It was only 2 years later, in 2002, as John Tickner was approaching retirement, that he chose to disclose what had happened. A documentary was being made about the normal (not paranormal) work of the police helicopter, and the pilots laughingly showed the footage of the unidentified flying object to the documentary makers. They immediately realised its significance and the video soon surfaced publicly, being shown on television and made available on the internet.
The Brighton UFO – Possible Explanation
The Brighton UFO certainly looks nothing like the classical descriptions of flying saucers we have had before. There is no obvious sign of an alien occupant. Some people who have observed the video extremely closely, however, claim they can see a kind of flickering inside. This has led to one possible explanation for the sighting.
Some have suggested that the Brighton UFO may have been nothing more than a Chinese lantern. Indeed, quite a few UFO reports in recent years are strongly believed to have originated with Chinese lanterns. A Chinese lantern floats like a balloon but has a candle burning in the centre. They are usually released en masse to celebrate something, like a wedding for example. In Chinese culture, written-down wishes would usually be placed inside the lanterns, the idea being that they would float up to heaven where they could be answered by the gods. They were also used for military communication in the olden days. The lanterns resemble small hot-air balloons and are usually around 2-3 feet tall. Their popularity seems to have spread quite considerably in Britain in recent years, although they are still quite novel to most people. Perhaps this is what accounts for the rash of UFO sightings we have been having.
Brighton UFO – Conclusion
So was the Brighton UFO really an alien spaceship, or was it just a lighted balloon? Though the matter has not been settled definitively, the weight of opinion now favours the latter explanation, and rejects the idea that it was something paranormal. The footage is readily available, however, so have a look and see for yourself.
You might also like...