Could Those Aliens Really Be Demons Or Devils?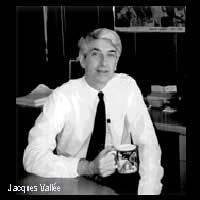 Several researchers within the field of ufology have noted the strong parallels between modern alien abduction narratives and the tales of demons, devil, witches, and little people from earlier centuries. Is there a connection between the two phenomena? Could they even be describing the same thing, simply interpreted through a different frame of reference?
The Paraphysical Approach to UFOs
Jacques Vallée is one of the most distinguished researchers ever to have worked in the area of ufology. He is something of a Renaissance Man, having made eminent contributions to fields as diverse as astronomy, computer science, and even finance. If you have seen the film Close Encounters of the Third Kind, you will probably remember the character of the Frenchman, Lacombe, who oversees the whole alien-contact project. That character was based on Jacques Vallée.
Vallée, and other researchers like John Keel, have looked deeply into the UFO phenomenon and concluded, without question, that there is some substance behind it; that the reports of sightings, and of contact with aliens, are not mere deluded imaginings. But they are troubled by some aspects of the reports about aliens in UFO literature. Some things just don't seem to make sense, they point out.
Why would aliens with super-advanced technology need to perform crude physical examinations? Would they not have detection devices that could tell them all they needed to know more simply? How can extra terrestrials instantly disappear or even pass through walls as recounted in some encounter reports? Surely even an advanced extra-terrestrial race would be subject to the constraints of reality to a much greater extent, despite their superior technology? This has led some of these researchers to explore what they call a paraphysical, or parapsychological explanation of UFOs. According to this approach, the encounter experiences are real in some form, not merely hallucinatory, but the view that the beings behind it all are no more than visitors from outer space is seen as too simple.
Could Aliens Really Be Demons?
Folklore contains many legends of contact with "little people." For much of the medieval period, those suspected of contacting demons or The Devil were castigated as witches, and punished brutally, often being burnt at the stake. Typically, these unfortunates would be subjected to torture and a confession of some sort would be wrung out of them. There are marked similarities between some of these witchcraft confessions and contemporary reports of contact with aliens through the abduction experience. The sexual aspect of the encounters is strongly to the fore in both cases. Witchcraft accounts abound in tales of women having forbidden unions with demons or even The Devil; likewise, abduction narratives often feature similar themes.
Given that these parallels exist, how should we interpret them? Is it simply a case of extra terrestrial contact being wrongly perceived, according to the belief system present at the time, as in the Ancient Astronauts theory which holds that early space travellers in UFOs were hailed as Gods by some primitive human cultures?
It is, of course, possible that neither the earlier demons nor the modern alien contacts are real. They may simply be the product of disturbed imaginations, and the similarities in the narratives may be the result of them having been concocted (consciously or otherwise) to answer some deep need in the human psyche.
Uncomfortable as it may be for those of a modern secular outlook to contemplate, it is also possible that the original medieval interpretation was the valid one. Perhaps there really are devils; they have been preying upon humanity for aeons; and it is we moderns who misinterpret them as UFO spacemen thanks to our technology-obsessed culture.
Jim Sparks, a UFO abductee, claims that the beings who kidnapped him were mischievous and manipulative. They would attempt to play mind games, claiming, at various times, to be angels or demons or extra-terrestrials, whichever was most likely to have the desired psychological effect on their victim.
What Can We Makes Of Aliens As Demons?
The "paraphysical" approach to the UFO phenomenon is perhaps the most intriguing of all. In answer to the question of whether UFOs exist, it says "Yes, but..." dismissing both the psychological explanation and the conventional alien hypothesis as too simple, and suggesting instead a much deeper mystery.
You might also like...
Devilish beings in the cosmonauts' capsule?
Hi, I have read the previous articles about aliens. I am a Christian and i understand a few verses in Genesis 6 where the fallen angels interbread with human women and producedhybrid Nephilim who were giants of massive proportions. I have reasons to believe that this goings on is still happening today.These UFO are of demonic origin and must not be taken lightly as i believe this subject is a serious issue. I would suggest you Dr Steven Greer of the disclosure project for more information.
evanj
- 29-Apr-13 @ 11:28 AM
I COME TO BELIEVE THAT ALIEN ABDUCTION HAS BEEN GOING ON FOR THOU+ YRS.ENCOUNTERS INCLUDE THOSE OF MARY THE MOTHER OF ARE JESUS CHRIST.SHE WAS A MERE ABDUCTEE.THINK ABOUT IT A VIRGIN WHO BECOMES PREGNANT? THOSE HAVE SAID JESUS WAS A HYBRID,I BELIEVE IT! WALKS ON WATER TURNING BLOOD TO WINE.CMON NOW? ALL ACCOUNTS AIM TOWARDS A ALIEN ABDUCTION FOR SURE! THAT BN SAID HE WAS HALF MAN HALF ALIEN.DIED FOR US AND ROSE FRM THE DEAD.SOUNDS THE WORK OF THE ALIENS ABOVE TOO ME.ANY STATEMENTS MADE OR SO POSTED IN WHAT WE CALL THE BIBLE TODAY IS A MERE DIARY OR ALIEN ENCOUNTERS.LIGHTS FROM THE SKY FLYING BEGINS.IT ALL MAKES SENSE.AND ALSO THE STATEMENT OF ALIENS BN DEMONS IS TRUE IN MY EYES FROM THE ANCIENT LANGUAGES THAT DATE BACK TO BC AND SO.EGYPTIAN DIALECT IS A SPOKEN IN MANY ALIEN AND DEMON POSSESSIONS ALONG W/A UNSPOKEN HEBREW AND LATIN.SO 2 AND 2 TOGETHER MAKES IT SEEM LOGICAL.AND IF WE ARE HERE THERE IS DIFF SOMETHING OUT THERE.NOWAY WERE THE ONLY ONES! CALL IT GOD OR HIGHER POWER WHICH EVER.BUT E.T. WAS RESPONSIBLE FOR MANKIND.
Black_Crystal78
- 4-Apr-13 @ 3:25 AM
Yeah, demons have taken the form of "The masters of Science and Technology." The point: to dupe humanity again into believing that THEY are the creators. It's the same old routine. Greek gods/fallen agels. Aliens/fallen angels. The connections is clear. Now consider the Hebrew translation of Beelzebub. It literally translates to The lord of those that flit about in the sky. We say lord of the flies, but that is mis transliteration. I heard a story of a woman who heard her name being called one night. As she walked downstairs, she saw three of the little gray aliens standing in her living room staring at her. Her first instinct was to call upon the mighty name of Jesus. She said, "Jesus help me." And with that, she claims to have seen a whispy hand yank all three of those little demonic entitiys right out of the house. Next time one of you gets abducted ask one of those little guys what they think of Jesus and watch them cringe. They might actually attack you. They might even say, "Oh, he was a great profit....or He was one of us." Just don't believe in any lie that is meant to discount that Jesus will always be the one and only begotten son of the most high God.
Peaches
- 5-Oct-12 @ 9:53 PM
To Hari.I was dreaming the other morning that I was switching from one reality to another simultaneously. Like I was actually living in two separate realities, and was aware in my dream that while in one, couldn't be aware there was one other reality. In my dream though I realized I'd become aware of this phenomena. And then, I woke up talking aloud telling my husband my dream. Very interesting, if not a common occurrence for me.
Terre
- 24-Sep-11 @ 3:50 AM
So it is a fact that the devil and demons do not exist who proved this and how?? How do you know demons and satan was not referring to aliens? compared to us they are supernatural. Unless you are the kind of guy that would eat a turd if they stamped rich chocolate on it.. which is essentially what people are doing with demons.. packaging them up as aliens. Even if they say they are not.. demons are liars...would a thief admit he is a thief if asked?? nO he would say he is the most honest man on earth.. what a bunch of tools. satan has destoryed God not by proving he does not exist but by proving he satan does not exist. It's pure genius. Mans arrogance and fallen nature will never let them realize the truth.As the truth hurts mans ego and the take the depiction of God and his word too literal.They picture a huge guy with a white beard and halo sitting on fluffy clouds. I bet that the terms we use to explain science and the ufo phenomena will seems acient and cryptic to humans of the future.To the point where idiots, like the ones that judge ancient texts today, will look at it and say it is fiction since it literally makes no sense since many of the things will be written in very dated terms that were not able to fully put into words the thougths and concepts of the time.we think our thougths and conceptsare properly explained but so did ancient civilizations and that has proven time and time again to notbe the case.If it was so we would not have so much contradiction on the history they left for us to read.
jack
- 27-Jul-11 @ 11:20 PM
The thing is it doesn't matter if people believe in demons or the devil because they don't exist. Its a fact. The UFO Phenm. is real whether an advanced tehcnological biological alien intelligence, advanced artificial alien intelligence or some unknown physical manifestation of nature that we do not understand at this point in our science. Those three are really the most likely. All three can also fit in the extradimensional/intradimension hypothesis or they/it is from a parallel universe.
cross
- 26-Jul-11 @ 8:41 PM
On May 21, at about 7:30pm, I saw a round dark orange object standing still in the sky, at an altitude of about 1,500 to 2,000ft and when I stopped to ask a person, standing by, to look up, the sphere disappeared. This happened in The Bronx, NY at the intercections of Melrose Ave. and 156th St. Then, about a month later, while stopping for a rest at Elton Ave. and 157th St., I saw, what appeared the same object traveling south at about the same altitude mentioned above. So, I know something is going on.and I'm confused, because even though I believe in demons spirits, they don't live in structures in the Moon and Mars.
Benny
- 21-Jul-11 @ 7:38 AM
Yes a number of years ago we were travelling in a car along a busy road. There were a number of cars in front of us and we eventually came to a stop at some traffic lights up ahead. As we were waiting for the change of the lights, we saw three black triangular shaped objects pass silently overhead. we were not sure that which we were seeing. I believe it to be some ripple through the space time continuam or something of that sort. It was unbelievable to see it but I know and remeber what I saw that day as it was in the daylight with a lot of traffic front and back. I think that we are seeing into a parallel universe or time sequence that is happening all at once in the same space.
hari
- 23-May-11 @ 4:12 PM