The Flying Saucer Working Party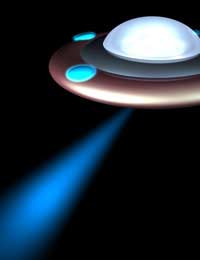 In the late 1940s and early 1950s UFO fever gripped Britain. The popular press was filled with sighting reports and even government officials showed some concern. Though the newspapers fixated on the idea that the UFOs might be alien spaceships, some of Britain's defence staff were concerned that they might have originated closer to home: in the Soviet Union. Following the emergence of the Cold War and the sighting of strange aerial phenomena over Sweden in 1946 – known as the "Ghost Rockets" – some of Britain's military planners were concerned that UFOs might be some form of experimental Russian aircraft.
Investigation
There was strong resistance in the Ministry of Defence to the idea of taking UFOs seriously but when Henry Tizard – a scientist revered for his work on wartime munitions projects – suggested that the matter should be looking into, an investigative committee was formed. It was called the Flying Saucer Working Party and consisted mostly of people who had specialised in the study of foreign military technology.
The work of the committee continued for eight months in total. It went about its business by reviewing written reports on UFOs from newspaper accounts and from the formal studies undertaken in the United States under the names Project Grudge and Project Sign. The American work seems to have exerted a strong influence over the Flying Saucer Working Party. In its own review of incidents and witness testimony, it took a very similar tack to that displayed in the American studies – dismissing apparent sightings as wrong-headed interpretations of conventional aircraft or astronomical phenomena.
Essentially all sightings from civilians were given cursory treatment – dismissed out of hand. There were a few made by British military pilots, however, which were harder to ignore. One RAF Meteor pilot saw a circular metallic object travelling over Portsmouth at about 1000 miles per hour. Interestingly, an anomalous trace, showing an object moving at terrific speed, was detected by radar operators at RAF Wartling at around the same time. The investigators interviewed all of the witnesses but contrived to dismiss the sighting. They insisted that there was a time gap of a few minutes between the two apparent detections and thus they did not corroborate one another. The pilot probably saw a weather balloon and the radar operators probably experienced some interference, they concluded.
Two other compelling sighting reports came from Farnborough, a centre for the testing of experimental aircraft. Both centred on test pilot Stan Hubbard who, on two occasions, in the company of multiple witnesses, saw a silvery, metallic "discus" fly or perform manoeuvres over the base. The investigators concluded that these experienced observers had either been the victims of an optical illusion or had mistaken a conventional aircraft for something else.
The Flying Saucer Working Party completed its report in 1951, dismissing the possibility that UFO sightings originated with something genuinely anomalous and recommending "very strongly that no further investigation of reported mystery aerial phenomena be undertaken, unless and until some material evidence becomes available."
Conclusion
Opinions differ about whether the Flying Saucer Working Party was an honest investigation or not. Some believe that it set out in advance to reach a sceptical conclusion and that the investigation was framed in such a way as to achieve the desired result, with the evidence being sifted and interpreted as necessary to suit. Whatever its merits or demerits, there is no doubt that the negative conclusions of the Flying Saucer Working Party were to set the tone for official public discourse on the UFO subject in Britain for decades to come.
You might also like...
Never see anything about Wartling incident 1955/6. Track came in from France and stopped just outside P E s over Hersmonceaux. 2 Hunters could not see anything. P R Canberra got to max altitude still nothing seen. Short time later object shot away west at fantastic speed and was lost from track near Bristol. All tracings taken away.
jobar
- 2-Nov-11 @ 5:57 PM