The Falkirk Triangle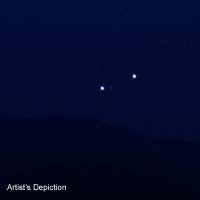 The small Scottish town of Bonnybridge (pop. 6,000) not far from Edinburgh, bills itself the UFO capital of the world. According to its colourful local councillor, Billy Buchanan, almost half of the town's residents have seen a UFO at one time or another and on a yearly basis, around 300 sighting reports are received from Bonnybridge and its environs – an area stretching from Stirling to the outskirts of Edinburgh which has been dubbed the "Falkirk Triangle".
It all started in 1992 when James Walker noticed some strange lights in the sky while driving home. At first he thought they were stars but was startled when he saw them move and assumed a triangle shape. Since then, UFO sightings have been coming in thick and fast in Bonnybridge. Local politician Billy Buchanan, in among all the other mundane problems such as burst water mains and inadequate rubbish collection which his constituents asked him to solve, found himself receiving more and more complaints about UFOs. Eventually, these reached such a volume that he felt he could ignore the issue no longer. He chose to go public with it, attracting massive media attention to the town. Councillor Buchanan wrote to the Queen, the Prime Minister and the Ministry of Defence, demanding that the UFO reports be investigated. Predictably, the publicity generated resulted in even more people coming forward, claiming to have seen UFOs.
Fortunately, in the modern age, lots of people have video cameras or cameras on their mobile phones, so one feature of the Falkirk Triangle flap has been that quite a few of the UFOs spotted have also been captured on film or photograph. Many of the sightings occur at night and consist simply of weird lights in the sky. Often, they change shape or colour or modulate in brightness over time.
There's more to the Falkirk Triangle sightings than lights in the sky, however. Take the case of the Slogett family, for example. Like others, they saw a mysterious blue light in the sky as they walked home one evening. But then they saw a flying saucer "about the size of a house" land right in moorland close by. They heard some kind of sound suggestive of a door opening on the vehicle. Terrified, they ran away as fast as they possibly could but were pursued by two smaller crafts. Eventually, the crafts disappeared and the family made it home safely. Alien abductions have also been reported in the area.
Could there be a conventional explanation for the spate of UFO sightings in the Falkirk Triangle? Scotland certainly has its fair share of military bases. Could the apparent UFOs be nothing more than experimental military aircraft being tested at night? Certainly, many of the Falkirk Triangle sightings are at long-range and occur at night. Secret aircraft could perhaps account for some of these but not for the short-range sightings or the reports of alien abduction.
Bonnybridge Sceptics
Sceptics claim that the Bonnybridge UFO hotspot is bogus – a grand scheme concocted by Billy Buchanan to drum up interest in his town, which has languished in the economic doldrums for some time and where a little more tourist traffic would no doubt be good for the local economy. A certain amount of UFO tourism has indeed developed in response to the flood of sighting reports. And Councillor Buchanan wants more. He has been talking up a scheme to build a UFO information centre tourist attraction in the town but so far nothing has come of it owing to a lack of funding.
Others believe that there really is something to the Bonnybridge phenomenon, but that Councillor Buchanan has made the most of it, perhaps exaggerating a little to try and win publicity for his town. He has certainly succeeded in that with the establishment of a twinning relationship with Roswell in New Mexico, site of the famous alleged saucer crash in 1947.
Some locals are reportedly unhappy with Councillor Buchanan, complaining that he has made the town a laughing stock. Everywhere they go, they say, whenever they tell others they are from Bonnybridge, they find themselves being asked questions about UFOs.
Conclusion
A disproportionate number of UFO reports are still received from the Falkirk Triangle area. It does seem to be one of the world's current premier UFO hotspots. So, if you fancy seeing one for yourself, why not pay the town a visit, put a smile on Billy Buchanan's face and help the local tourism trade?
You might also like...
Hi, thanks to you..you have answered a mystery. I've looking for over 20yrs on what I saw in the early 90's..a triangle UFO.. Many thanks
Deb
- 24-Jul-15 @ 4:53 PM
Hi there! Yesterday evening (Monday 25th May 2015) at around 7.50 pm my partner and I saw a very peculiar object travelling at high speed in the sky. I filmed it on my iPhone and if anyone is interested in viewing it please let me know and I shall email a copy of the footage. It won'wt win any awards ... but it clearly shows what we saw! Best regards ... Theo.
TRJ
- 26-May-15 @ 7:17 PM
You can't really deny it anymore, because of what there doing in vienna, all the scientists and goverments attempting to go through into othet excistences beside us, actually says in bible and many different teachings!I believe in other worlds, besides all the New technology and how we have advanced in last 50 or so Years and many of us have seen orhave had experiences and we know it came from outside this world we can't deny that! Some people ignore it but mist of us know its coming from somewhere elsemore advanced, any feedback? Let's keep positive thinking on all that's going on and getting reveals at this time on our planet!
sam
- 17-Apr-15 @ 11:26 AM
I had just come off the m386 I think it is maybe wrong over the clackmannashire bridge and headed for perth on my way to aberdeen at about 3 30 am on the 30th december 2014 when out the corner of my eye and coming into view from the roof of my car into the windscreen I noticed what immediatly in my head registered as a shooting star but wen I looked at it it turned almost like a boomerang and shot off in the other direction and what was more was that it was green and dissapeared as fast as it came I'm not scottish I don't believe in ufos but this was weird it was maybe a second or 2 but time seemed to stand still. Anyone any ideas?
openmindedfriek
- 20-Feb-15 @ 1:30 AM
My mother-in-law was Bonnybridge born and bred.She firmly believed in reincarnation and claimed she was a reincarnated Atlantean, because she had bumps on her ears.Her father was an alcoholic, as were her husband and her son.Perhaps she attracted them.And UFOs?Ah, perhaps.She was certainly a very peculiar person, to put it nicely.
Dragonwych
- 25-Jan-15 @ 7:08 PM
Anyone interested in the Dr Jonathan REED case and would like to attend a conference mail me or pm me on Facebook (Gillian Stewart Main )
Jill
- 20-Oct-14 @ 8:26 PM
I come from a village just at the back of bonnybridge and I have seen a few things. I wondered if anyone has heard of Dr Jonathan Reed ? He encountered an extra terrestrial being nicknamed " Freddie" Freddie is a Grey alien. DR JONATHAN REED and Freddie have had contact with each other since 1996 October 15th . , if anyone is interested in listening to the life story of Dr reed then plz e-mail me or pm me on Facebook (Gillian Stewart main) .
jill
- 20-Oct-14 @ 8:22 PM
I have just moved into a new flat in Langlees, Falkirk and on my first night there I was just looking out the window and there were some strange goings on in Sky..strange lights moving around the Sky and a really large cigar shaped vessel moving through the Sky at a very fast speed. I was never a believer but things like this and the research into it has really opened my eyes.
Yammie102
- 1-Sep-14 @ 4:31 PM
Well, my parents were visiting their friends at a house called Kirkmailing, which is close to the church at Larbert Cross (No jokes about the Larbert connection !) It was twilight on a summer night, they were outside and saw a cigar shaped thing in the sky (Mum says it was massive), light visible from the inside, no noise. It flew very slowly left to right across the sky and was not flying very high in the sky. Suddenly it accelerated out of sight. This was around about the late 60s early 70s .My folks may have enjoyed a drink but no way was there ever anything else involved. They thought that the RAF must have been testing some kind of new plane...........................
Shorty
- 18-May-14 @ 10:42 AM
well ye may be skeptics but av seen a few strange things that a was sober and not alone and it was not just me that experienced and saw it every time so there is something going on yes it could be covert military operations that we will maybe never know but call those that have seen stuff what you want just cause you have not seen a thing yourself
Saludo desde Chile, escribo para pedirles ayuda de información ya que estoy realizando una tesis de turismo ufológico, y como Roswell es tan importante en este tema me tome el atrevimiento de escribir, lo que me interesa es saber cómo han logrado llegar a hacer tan importantes para que los turistas lleguen a su atractivo y como han formado su planta turística,espero me puedan ayudar, muchas gracias!
paula
- 18-Feb-13 @ 7:26 PM
Lots going on near that area but sorry guys its not all ET but the USAF, Scotland has become on big secret base mainly the central belt hence the ET activity in that area. I wouldn't waste any time trying to find them as they are deep underground but there are a few key points that bring the MIB into play who are human not alien. If you want to see ET on the ground then hang about the A70 but keep a good distance if you value your health.
hyundisonata
- 2-Aug-12 @ 9:09 PM
Half the towns folk have seen them but a taxi driver that doesn't drive but mearly reclines in his car while trying to stay awake every night of the week says it's all rubbish. Best we go with the sleeping taxi driver on this one
Buzz Lightbulb
- 16-Jun-12 @ 11:53 PM
I'll tell you now its all rubbish.At the time of all this so called UFOs spotted in Bonnybridge I was working as a taxi driver with a zone4 plate, which covered the area of Bonnybridge, Denny & Dunipace and Banknock. The firm I worked with wanted to establish a night shift and you had to do during the week to benefit from the weekend work.So there I was night after Night sitting at bonnybridge toll or the bridge at high bonnybridge all night long with my seat tilted back looking at the sky through my sun roof and never saw anything at all, I did this for over a year. But the biggest surprise was half the people that stated they saw ufos I had taken up the road earlier and that drunk they could not even stand let alone look up to the sky. It's all rubbish, I believe that there are ufos and one or 2 maybe have been spotted here like anywhere else but not on the level they are claiming.